Quimera
The star of the Quimera series is a very sexy fine mesh paired with elastic Leavers lace. The laminated straps are one of the highlights of the series, featuring a metallic Swarovski piece in dark silver. Elegant ash (very similar to nude, ideal to avoid a see-through look in summer), eternal black (the ideal partner for the mesh) and a very bright pink fuchsia (always desirable in summer) are the three series colours.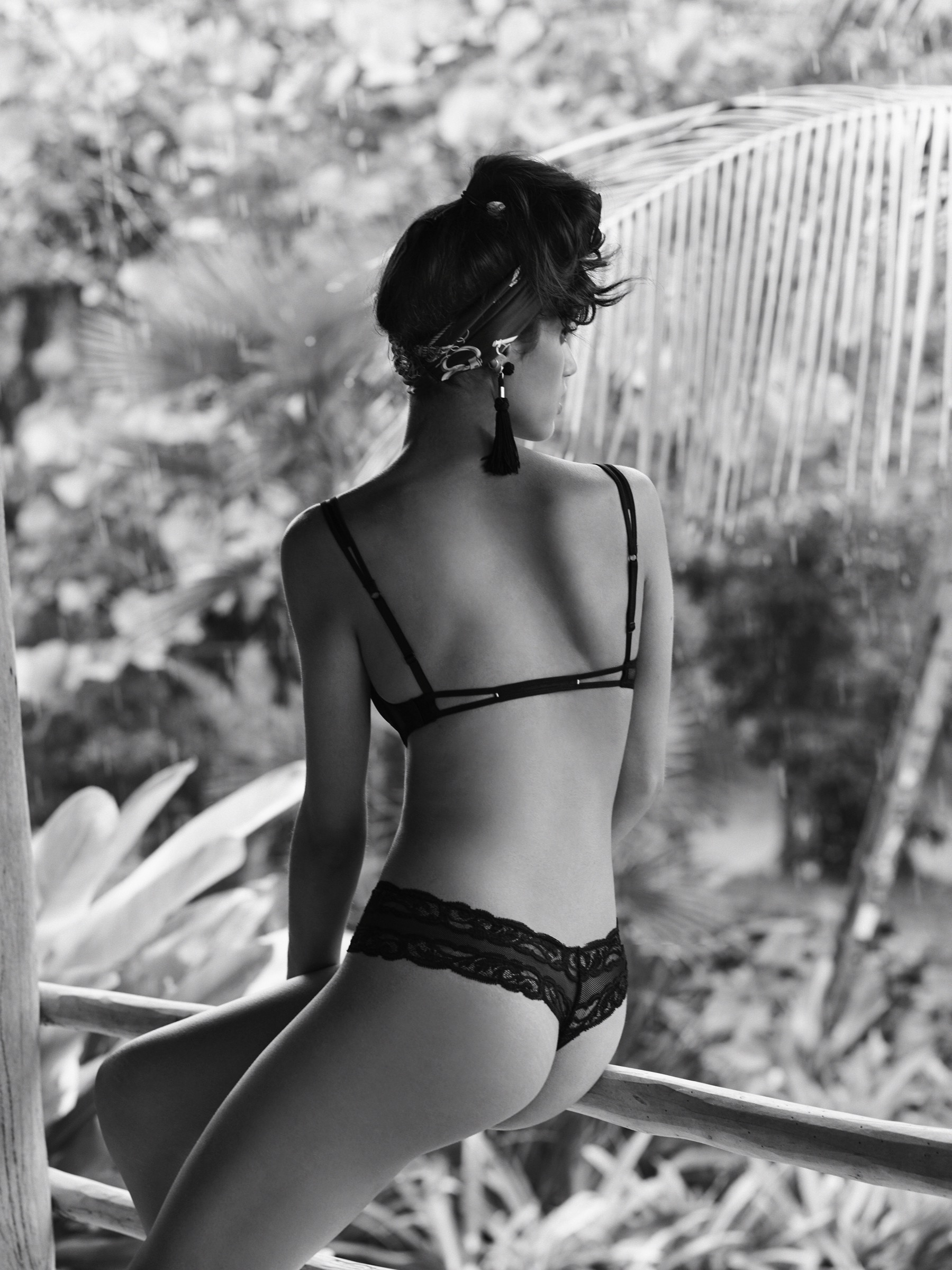 As for styles: as always, Andres Sarda offers various options, covering all the needs of the female body. The bras comprise a wire bra, a bra without wires, a balcony, a push-up and a bra without wires with light filling (with the preformed cup) to give a good shape to the breasts. The head-turner in the series is unquestionably the revealing body with delicate straps that leaves the whole back uncovered (it also comes with removable tape to ensure a good fit). Ideal with backless dresses, which is great for summer.
Richmond
Richmond is inspired by a sexy, flirtatious pin-up look. There are three colour combinations to choose from: a retro, classic nude (inspired by a bygone age) and two mini polka dot prints: one in lime and white (fresh and acidic) and one in black and pink sherbet (more playful). The fabrics used in this series are a very fine microfibre of the highest quality (which is very soft and grips the body very well), a highly elastic contrast lace that is applied as decoration and a zigzag finish with a very evocative retro stitch. The series includes various briefs and bras, plus a special piece: a camisole with straps, which can be worn on its own, with lace detail and a V-neck.
Ceilan
The big draw of the Ceilan series from Andres Sarda is surely the premium-quality elastic Leavers lace from France placed one on top of the other, a classic haute couture technique brought to lingerie. The sparkling metallic beads in gold on the bra straps catch the eye. Ceilan comes in three colours: on the one hand khaki, featuring small bursts of coral pink; on the other, navy with echoes of purple, mixed with makeup. And lastly, a pinkish nude with elegant retro accent (and without contrast colour, designed for everyday use). Of all the briefs and bras (regular wire, special wire for large sizes, balcony, push-up), it's the triangle bra without wires that grabs the attention, with its highly decorative back, fastened at the side, and metallic pieces. A spectacular back goes well with high briefs and brings out the full splendour of the lace. One of the standout pieces in the collection, bar none.
Glass
Glass is a series that combines highly prized Chantilly lace with natural elastic silk (French and of the highest quality) and tulle details that create an invisible look. This transparency is achieved by the contrast between a natural skin tone in tulle, which is paired with a highly provocative nocturnal purple. This original combination comes in various styles of briefs and bras (wire, balcony, push up) and two key pieces that will catch everyone's eye: a bustier (which can also be worn on its own) and a tanga with garter belt, which bears a striking resemblance to classic French knickers.
Eden / Takashi
The Eden series from Andres Sarda, a classic that is revitalised season after season, adds two new colours to its palette coming summer. On the one hand, a copper tone paired with a very appealing pastel pink, and, on the other, a pure watered down white, very fresh and clean, ideal for summer.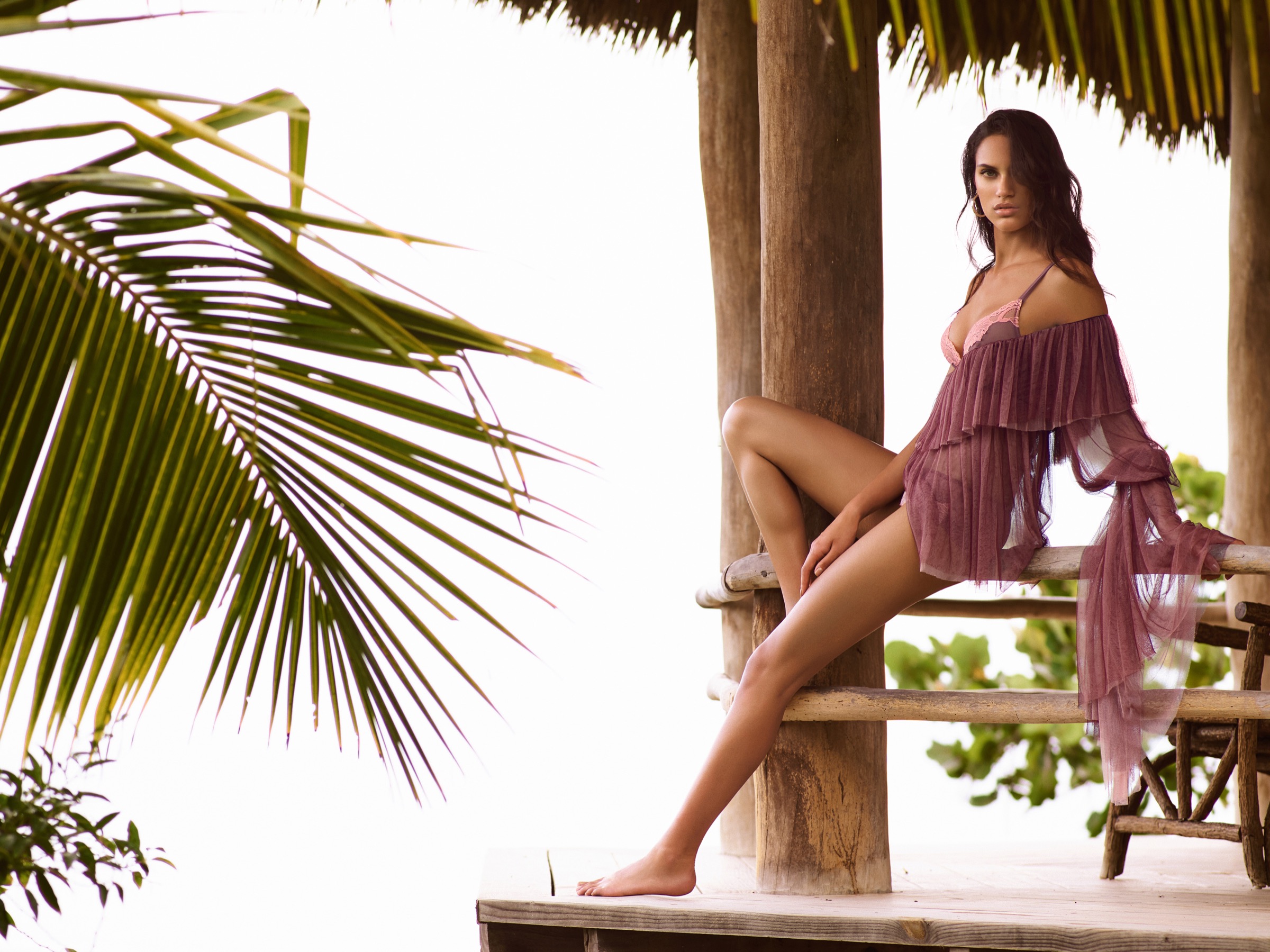 As for the materials: embroidered tulle on a very transparent tulle foundation and a decorative enamelled piece on some styles. As well as the traditional bras and briefs (balcony, push-up, thong, boxer thong and classic), this season sees the addition of a triangle bra without wires and a bandeau (strapless).